Wednesday, August 14th, 2013
NEWSLETTER AUGUST 2013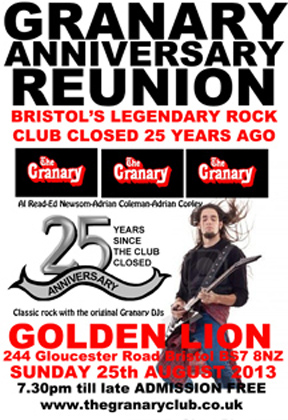 There are just two weeks to go to the 25th Granary closure Anniversary gig at the Golden Lion! Today I was rummaging through my classic rock CD collection puzzling whether I should feature"Touch too much" by AC/DC or should it be "Don't Fear the Reaper" by Blue Oyster Cult? Then it hit me….it's the Granary, play both! Yes it's going to be a night of amazing rock tracks. Recent posts on the "Granary-Bristol' group page on Facebook have been tracks by AC/DC, Led Zeppelin, Thin Lizzy and Whitesnake. Bet most of these tracks turn up on the 25th. As well as the mass of marvellous music we will throw in (literally) a number of air guitars and a free raffle when you can win a unique Granary t-shirt. A special one off design featuring the many punk and new wave bands that played at the club.
We will get underway at 7.30pm so don't be late or you'll miss some brilliant tracks. It is also likely that BBC will be there as they are planning a radio documentary aboutthe Granary and would like to include Granary fans memories of the legenday rock venue.
See you there on the night, Al & Ed.