Sunday, August 6th, 2017
Granareunited 41 will be with us in three weeks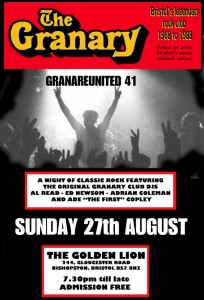 Did you know that 29 years ago the Granary Club cosed its doors for the last time. However its spirit lives on with a night of heroic classic rock brought to you by the original Granary Club DJs (slightly worn with age but thankfully still standing). Always a great night packed with those rock tracks that will transport you back to those crazy Granary rock discos of the Seventies and Eighties. The next day is a bank holiday so most of you will have time to recover from drinks at pub prices and admission is FREE.
Pass to word to your rock friends and neighbours and let us all get together and do it like we did it back then. THE GRANARY LIVES.
_____________________________________________________________________
Super-Ed's opening set links super tracks with the original Granary beginnings.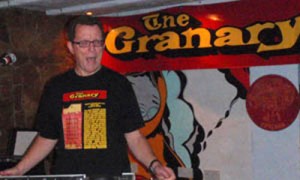 Ed always creates a collection of rock tracks to open the reunion evenings which have a special Granary link. At 7.30pm on Granareunited 41 night Ed takes us back to the band that ran a regular Monday night at the Dugout Club in Park Row, Bristol back in 1969. When Al, Terry and Ed (their roadie) split from East of Eden they carried on the rock nights but moved from the Dugout to the Granary and the Club's legendary rock story started. Ed 's track collection features the many of the classic rock bands that East of Eden supported in the far out and cosmic days of late 1969. Expect to hear (or miss if you are late!)
Ten Years After - Traffic - T-Rex - Crazy World Of Arthur Brown - Family - The Nice - Jethro Tull - The Who - Free
Taj Mahal - Idle Race - Status Quo - Pink Floyd - Procul Harum and - King Crimson (they were at the Marquee on June 8th just a week or two before their memorable gig at the Granary on June 30th 1969).
Picture shows East of Eden 1969 with Al Read top right and Terry Brace front left
The canvas of Captain America on the wall behind was painted by Al and is there because the photo shoot was in Al's flat .
__________________________________________________________________

Please make a real effort to join us for our summer Granareunited event and be part of the continuation of the legendary Granary story.
Here's to the great times then, now and in the future, Al & Ed