Saturday, January 5th, 2019
A great big thank you to all our Granary friends and fans who joined us for the 50th Granary anniversary of the original Granary gig. A really enjoyable night at the Lion with a lovely crowd that packed the place. To quote a title "Nothing's Gonna Stop Us Now" we will be back at Easter with another Granareunited. Here's a pic of Granary party people.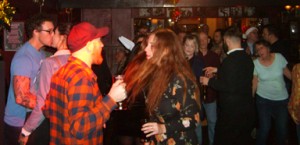 Here's an amazing picture of three of the Granary DJs on stage at the Lion at the same time (usually one is on stage whilst another is at the bar with the other in the toilet). On this occasion Adrian Coleman was absent at a wedding. Pic Ed Newsom, Al Read, Ade Copley.