Thursday, June 23rd, 2016
GRANAREUNITED 38 COMING SOON
It's just a couple of months to go to our summer event celebrating the amazing times we had at the Granary.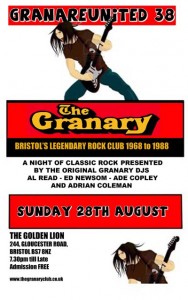 It has been all of thirteen years since our first Granary reunion event and the fact that we're still here bringing you the classic rock night to remember proves that the Granary always brought you the best in rock - live or on record. Do join us on the 28th August and we guarantee you'll have a truly memorable time going wild to your favourite classic rock. Bring all your friends - they'll love it too. PS. DJ Super-Ed is working on a special Prog Rock playlist for the warm-up spot which begins at 7.30pm. Not to be missed under any circumstances. It is sure to feature several of the splendid Prog Rock bands that graced the Granary stage in the 70's, plus a few more who didn't, but should have done. I blame the guy booking the bands for that !!
_______________________________________________________________
MORE PICTURES FOR THE GRANARY ARCHIVE
Karen has once again provided us with some shots taken at the Granary. This time she had her camera at the ready when MAGNUM played the club on 2nd February 1985.

WEAPON, who played the club a couple of times in the early Eighties, sent us this picture taken with Les Pearce who had recently been upgraded from door security to general manager.
__________________________________________________________________________
GRANARY FACEBOOK PAGE COMES UP WITH THE GOODS
Granary fan Wendy Isaacs posted this request last month -
"My brother played in a band in the Granary many times during the 70's. I was too young to remember and the family cannot remember what the band was called. He died aged 31 in 1983 but I would love to see if anyone remembers him, the band or even better, if there are photos of them playing. His name was Paul Fuller and I know that on one occasion they went on first, loaded the van and enjoyed the rest of the night there only to find that all their instruments had been stolen from the van!!!"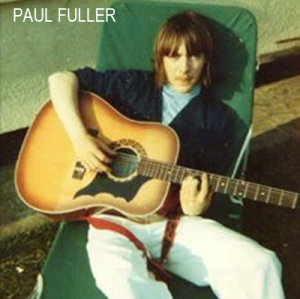 Soon afterwards this reply was posted from Charlie Hart -
"I was the drummer in the band, it was called Blizzard, we supported the Gary Moore Band on 24th August 1972. I remember Paul very well. I still have loads of audio tape of rehearsals. Yes the van was broken into, a bass and maybe a guitar was stolen whilst we watched Gary Moore. Gary let us use his Wem pa in return for borrowing our mike stand. Paul played a black Jedson copy of a Gibson Les Paul. I have a photo of members of the band which I need to find in my boxes of bits and pieces, I have one with Paul with very long hair taken at the Mendip Gate pub where we rehearsed. The band members were Pete on Bass, Mick Miller also on guitar, Paul Hawkins on vocals."
The follow up from Wendy -
Wow…that is fantastic news!! It would be so amazing to see photos of him and to hear him playing would be the icing on the cake (quite emotional too) My older sister Lorraine used to watch him play but I was too young. (He was 18 when I was born) He tried to teach me guitar but gave up because I was rubbish.
A final post from John Furlong said "And that my friends is why Facebook can be superb".
________________________________________________________________________
"PRIDE BEFORE A FALL" IS THE 'LOST" ALBUM FROM STORMTROOPER
Bristol's very own Stormtrooper were ahead of the 'N.W.O.B.H.M', as they had originally formed in the mid 1970's. But they were right in there more than holding their own with the likes of Def Leppard, Iron Maiden, Saxon and Motorhead in terms of seeing their music released in the slip-stream of that catch-all 'brand identity'. Their passion, talent and ambition enabled them to launch themselves to gain recognition, and their hard work and blistering live shows paid off when 'Pride Before A Fall' became one of the singles released through the unlikely means of local Heartbeat Records operation, run by Simon Edwards in Bristol. 'Pride' roared its' way into the 'Heavy Metal' chart at 23 in Sounds in its' first week of release. It reached the heady heights of number 11 after. Now the other recordings made by the band in that era, are available on 'Pride Before A Fall - The Lost Album'. Songs like 'In The State In the City' and 'Still Coming Home' showcase the bands' unique blend of Bob Starling's distinctive and passionate blazing guitar attack, with the driving force of an electrifying rhythm section. Nick Hancox's technically brilliant and energetic drumming fused with Colin 'Boggy' Bond's knock down the walls bass playing, and his definitive use of Moog bass pedals which brought another dimension to the textures in the music. In the best traditions of a great rock band, this was topped by the rock power and vocal range of singer, Paul Merrell. A lost gem that's rock gold and is worthy of being in any genuine rock fans music collection.
Stormtrooper played the Granary at least five times between 1976 and 1979.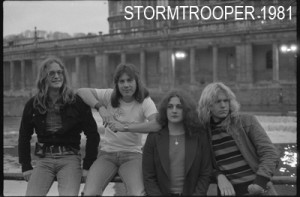 Band members will be joining us at the next Granary reunion event to sign copies of the album that will be available on the night. More about this in our next newsletter. If you want to get in first and pre-order a copy now and hear extracts of album tracks then click to visit Archive Records
https://bristolarchiverecords.bandcamp.com/album/pride-before-a-fall-the-lost-album
_______________________________________________________________________