Additions and Corrections
ADDITIONS and CORRECTIONS
Many thanks for contacting Al with your additions to the listings in the Granary book and for spotting where a mistake has been made.
Page 23 -   Monday 1st December 1969 : TEA & SYMPHONY - The support act was  ELIJAH & THE GOAT
Page 30 - Monday 13th April 1970 - LIVERPOOL SCENE - The support act was - ELIJAH & THE GOAT
Page 32 - Monday 18th May 1970 - WARM DUST - The support act was - ELIJAH & THE GOAT
Page 38 - Thursday 27th August 1970 - DADDY LONG LEGS - In the book it says that there was doubt that Daddy Long Legs were going to appear as their work permits had lapsed and they were likely to be deported. Andy Summerhayes tells us that he made a date with a girlfriend and her friend (recipients of free tickets ?) to go and see them. When they arrived they were disappointed to find that Daddy Long Legs indeed were unable to appear but instead they saw one of the first appearances of that great Welsh band, Man. Andy knows this to be true because this was the start of a life long love of that particular band and can even now picture the 5 piece crammed onto the Granary stage. Not only that but he can remember where the girls lived (Bedminster Down), what they had for tea (beans on toast) and which car he was driving (his mum's light blue Morris 1100).
Page 41 - Monday 19th October 1970 - MOTT THE HOOPLE - BUCEPHALUS - Due to illness Mott the Hoople were unable to play and so support act Bucephalus covered by playing two extended sets
Page 64 - Saturday 7th August 1971 - ASSEGAI - support act was - AGAR
Page 67 - Saturday October 2nd 1971 - CHAMPION JACK DUPREE - There was some confusion over this booking (early days for Saturday bookings by Plastic Dog) and the band arrived on the evening of Friday 1st October. Bass player Stephen Hurd explains - "On arrival the band were told they were actually booked for the following night ie. Saturday 2nd. The utter disappointment of the band (who had hired a van especially for the gig and driven down from Nottingham) was dispelled when Champion Jack himself, suddenly arrived and immediately arranged accommodation for the night so the gig could happen the next evening. This was pre M5 days so Nottingham to Bristol and return was no mean feat! I was the bass player in the band and during that Friday evening I met and became very friendly with one of the bar maids in the club. We got married the following year and now have 3 grown up boys and a couple of grand kids. Incidentally, we're going down to the old place for meal tomorrow as it's now a Loch Fyne restaurant and hope to stand somewhere near to where we first met 40 years ago to the day!
Page 69 - Saturday 6th October 1971 - GRAHAM BOND - support act was AGAR not Birth
Page 70 - Monday 25th October 1971 - SQUIDD - ALCESTIS - The photograph is captioned as being of Squidd which is incorrect as it is a shot of ORIGINN. Steve Webb (guitar) and Rodneys Matthews (drums) played in both bands whilst the vocalist pictured was Originn's Graham "Trousers" Rose and the bass player was Rich "Bowels" Lanham. Rich informs us that Graham's tie dye kaftan was purchased at the trendy Park Street boutique known as Hartford's Men! See page 20 for Originn details and pages 22, 24, 26, 27, 31, 34, 35, 40 for more Originn gigs.
Page 77 - Monday 20th March 1972 - HEADS, HANDS AND FEET - Our thanks to Gerry Prewett of Cannington in Western Australia for scouring his 1972 diary and discovering this missing date for the great band that included Chas Hodges who went on to 'Chas & Dave' fame. Gerry remembers that their rendition of 'Song for Suzie' was brilliant! Gerry also tells us that he used to love dropping in at the Dockers Club (across Welsh Back from the Granary) for a few beers before coming to the club.Saturday 16th February 1973.
Page 89 - Saturday 16th February 1973 - CRIMSON EARTH
Holders of the record for the most appearances by a group at the Granary. The book is missing a photograph of the band  however bassist Chris Wynn provided this visual which shows left to right Rich Martin - drums, Sam Champ - vocals, Chris Wynn - bass/vocals, Fred Fry - guitar/vocal and seated Dave Wynn - guitar.
Page 94 - Thursday 24th May 1973 - WOLF - Darryl Way's Wolf recorded two albums not one as stated. The second was called 'Saturation Point'.
Page 97 - Saturday 18th August 1973 - THE VULTURES - A biography of the CLASH published in November 2004 says that the 'birth' of  JOE STRUMMER (i.e. John Graham Mellor changed his name to Joe Strummer) was at the Granary Club in Bristol as a member of the Vultures on the above date. They were paid the handsome sum of £40. Another first for the Granary.
Page 97 - Thursday 30th August 1973 - BREWERS DROOP - Mark Knopfler's biography says that after he graduated from university in (July?) 1973 he auditioned for and was accepted into blues rock band Brewers Droop. Their 1973 album includes two tracks featuring Mark. Although he was only with them for a few months I think it's safe to conclude that Mark Knopfler was in the band when Brewers Droop played at the Granary 30th August 1973.
ADDITION - CHRIS JAGGER BAND - Charlie Hart (drummer with LAWDY MAMA - Granary gigs on Thursday 7th September 1972 supporting Colin Blunstone and also playing at the club's celebrations for New Years Eve 1973) tells us that sometime in 1974 the CHRIS JAGGER BAND played. Do contact us if you know the exact date. Charlie remembers that the groups PA system broke down halfway through the set and there was a half hour break as the roadie sorted it out. Club members amused themselves by calling out "Where's Mick?". Very drole.
Page 106 - Thursday 16th May 1974 - KIND HEARTS & ENGLISH - In the list of musicians who, at one time or another, played with in KIND HEARTS & ENGLISH Mervyn Jones is incorrect and it should read Kevyn Jones.
Page 113 - Saturday 5th October 1974 - BABY - Band members are listed in the book as Johnny Lee Schell, Steve Crane and Woodie Putnam which is incorrect - the correct line-up was John Butler Vocals - previously with 'Ginger' later to replace Steve Ellis in Widowmaker and still with 'Diesel Park West', Mick Pini - Guitar - previously with 'Headstone' and still with his own 'Mick Pini Band', Eddie Lindsay - Bass and the supplier of the right information Graeme Malen on Drums.
Page 127 - Thursday 6th November 1975 - BEARDED LADY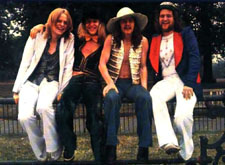 The line-up on the night of the Granary gig was Johnny Warman (guitar, vocals), Freddie Sherriff (lead guitar), Chris Peel (bass, Paul Martin (drums).
Page 143 - Sunday 3rd October 1976 - THE RUNAWAYS - This is confirmed as the actual date of their appearance at the Granary. The original date was postponed due to their equipment being impounded by customs and that was September 1976.
Page 158 - Saturday 1st October 1977 - CLAYSON & THE ARGONAUTS (£100) - The text in the book is as follows : A punk band (who may have been the Sex Pistols) was supposed to play at a college in town but the gig was stopped by nervous college officials at the last moment. A large number of local punks, disappointed at the loss of the college gig, made their way to the Granary to do their punky thing to Clayson and company. It wasn't a riot but it got pretty close. Not one to remember for either the band or the Granary. Alan Clayson has for many years been a respected author of rock music books." There is an update from journalist and drummer Shane Baldwin who has been in touch with Alan Clayson and tells us what Alan says about the gig. "I remember the Heartbreakers played a gig at the Anson Rooms that was stopped by rioting Bristol City fans. Steve Jones and Paul Cook guested with the band that night, which probably accounts for the Sex Pistols rumour. That was when £100 was worth something! It definitely was Johnny Thunders and the Heartbreakers - who we met in an M4 service station later that night. As well as an influx of punks - owing to the sudden cancellation of Thunders et al at the University - the Granary show was remarkable too for some bloke climbing on stage and stripping naked during our arrangement of "Arnold Layne".
Page 168 - Saturday 29th July 1978 - HANDOVERFIST -  The line-up of the band was Dave Bowyer (guitar and vocals), Chris Weeks (guitar), Neil Russell (drums) Neil now plays with 'Brave Uylesses', Richard Lineton (piano and guitar) Richard plays as 'Snake' in 'Los Vanquis', Kit Jackson (vocals) and Dave Smith (bass and vocals).
Page 171 - Thursday 26th October 1978 -  ERIC BELL BAND - In the book the tale is retold of when Thin Lizzy were at the Colston Hall on the same night as Eric Bell was playing the Granary. Eric appeared onstage at the Colston Hall to play his intro to "Whiskey in the Jar" and later on Phil Lynott joined Eric at the Granary to join in the same song. Granary fan Aidan Naughton writes 'I'm also certain that the Lynott appearance with Eric Bell is listed for the wrong date and is in fact something of a myth. I was at both shows and I've checked it with several others who were also there. Bell did indeed get up with Lizzy at the Colston but only Brian Downey sat in with Eric Bell at the Granary. Lynott was much rumoured to be making an on stage appearance ahead of the gig, but didn't even make it to the Granary. I remember asking Downey where he was during the evening." SEE PAGE 187 FOR MORE INFORMATION

Page 175 - Saturday 17th February 1979 - GENGHIS KHAN - The spelling above is correct not Ghengis Khan as in the book. The line-up was John Butcher from Birmingham on vocals, Billy Morrison on drums and Jimmy McTurk on guitar both from Glasgow. Alwyn Lovell was on ead guitar and Robert Boston was on bass. These two remained in the band from 1975 to 1980 despite there being over a dozen changes in the line-up. Genghis Khan had played an earlier support date at the club but the information is still to be found.
Page 175 - Thursday 22nd February 1979  - TONY MCPHEE & TERRAPLANE - Granary fan Mark Rummings found a note in his diary to the effect that his visit to the club on this night was somewhat spoilt by the non-appearance of Tony McPhee. A rock disco replaced the live music.
Page 177 - Thursday 21st June 1979 - LOOSE CHANGE - Drummers surname should be Geoff Hillyard not Hilliard.
ADDITION - Monday 26th November 1979 - BENEFIT FOR CAMBODIA with
PRIVATE DICKS - SHOES FOR

INDUSTRY -

SNEAK
PREVIEW. Picture of Private Dicks front man Gavin King on stage at the Granary gig.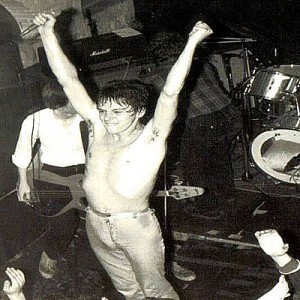 ADDITION - Ian of Bertie Dugga P.A. hire tells that some time in the late Seventies or early Eighties, the all girl group THE SLITS played at the Granary. Please contact us if you have any recollections of this gig especially if you have a note of the date. Ian thinks it might have been a last minute replacement.
Page 184 - Tuesday 5th February 1980 - A very cold Tuesday night if memory serves me correct writes Aidan Naughton - SLEDGEHAMMER - The line up was Mike Cooke, Terry Pearce, Ken Revell and they were promoting their single called Sledgehammer. Guitarist and vocalist Cooke also played a violin bow solo a la Jimmy Page. They also had a song called Oxford City (their hometown) which they changed to Bristol City at the Granary (presumably the town they played was inserted each night). Aidan Naughton also remembers a song called Perfumed Garden with a very strange riff and the line "She blew my mind and that's not all"). Sledgehammer played the Granary at least twice (one of the gigs was supporting Vardis - but I'm not sure which date).
Page 185 - Tuesday 25th March 1980.- SLAUGHTER - They were a late incarnation of Slaughter and the Dogs supported by ABRASIVE WHEELS - They hailed from Leeds and had a single on release on their own label. Later they signed to Riot City.
Page 187 - Saturday 24th May 1980 - ERIC BELL - Richard Morris tells us that this was the night when Eric joined Thin Lizzy onstage at the Colston Hall. Lizzy were on their 'Chinatown' tour. Richard says he could never forget that gig as he met the band backstage after the show and has a signed tour programme.
Page 189 - Sunday 6th July 1980 - SAMSON
Page 191 - Saturday 13th September 1980 - JOAN JETT - In the book Al is not too sure that the gig took place. It was recorded as being booked and Al has an autographed copy of the Joan Jett "I Love Rock n Roll" single so he presumed that they had met about that time. Al however could not remember the actual gig. Aidan Naughton contacted the web site to say "My brother is pretty certain that the Joan Jett gig didn't happen. He also has a signed copy of her single which he got from her after an interview Al did with her on Radio Bristol".
Page 192 - Tuesday 21st October 1980 - Also on the bill along with the COCKNEY REJECTS were the EXPLOITED
Page 195 - Saturday 10th January 1981. WEAPON photographed along with Les Pearce who had recently been promoted by club director Tony Bullimore from door security to club manager.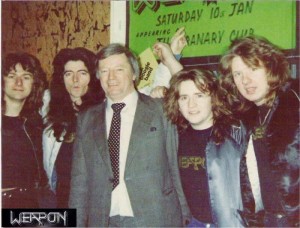 Page 197 - Sunday 1st March 1981 - VICE SQUAD - supported by COLD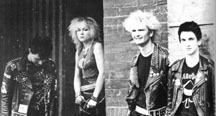 The visual of Vice Squad in the book shows a much later incarnation of the band than the original 1981 lie-up. The publicity photograph that was intended to be used in the Granary book is this one with Dave Bateman (guitar), Becky Bondage (vocals), Mark Hambly (bass) and Shane Baldwin (drums). This picture was also featured in Smash Hits magazine with the caption "Dave, Becky, Mark and Shane waiting for the leather forecast". Don't we wish we'd used that caption in the Granary book - NOT!
ADDITION Monday 6th April 1981 This date has now been confirmed as the memorable MOTORHEAD gig. Arranged by a motorcycle club (possibly the Hell's Angels) it was a slightly disorganized event with Les Pearce phoning club members on the night to invite them to this unpublicised gig. Well done Aiden Naughton who had the forethought to bring his camera to the gig and record it for Granary rock history.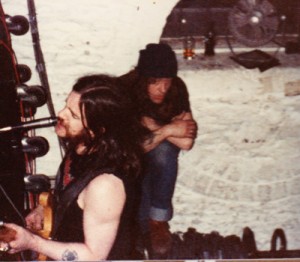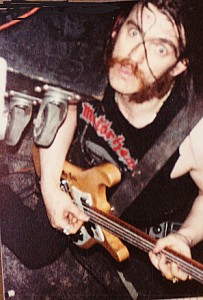 And my thanks to Gran Fan Dafe (aka Merchant Navy Dave) for these MOTORHEAD autographs collected on the night, brilliant,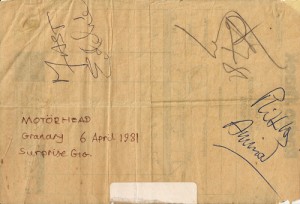 ADDITION - Page 199 - Friday 24thApril 1981 - RAINBOW WARRIOR. Nick Gilbert from the band is sure that they played the Granary on this date (sometimes I think anything about the Granary is possible!) but in 1981 every Friday was ROCK DISCO, the biggest (financial take) night of the week for the Granary so it is very unlikely that bands would have been brought in to replace it. However if anyone has any concrete evidence that this was a genuine appearance date for the band do let us know. Nick also says that they played on Wednesday 31st March 1982. This is possible though Wednesdays were not a regular night for bands. As Al was just leaving to move to the BBC Les Pearce had began booking bands into the club and as Les kept no records and had stopped advertising in the papers information for the book from this point was difficult to obtain or check.

Page 208 - Saturday 8th August 1981 - (In June 2016 -WEAPON found a poster for this gig)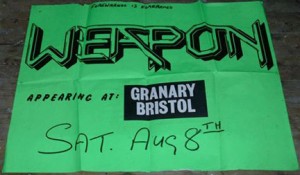 Page 215 - Friday 13th November 1981 - Day 3 of BBC TV's recording of live bands for the RPM TV series - SLOW TWITCH FIBRES - NEON - and not the Paynekillers but ace rockabilly band DIXIE REBELS
Page 224 - AL READ leaves the Granary in April 1982 and in the book it simply says that GLENN DANIEL takes over the job of disc jockey. Later on Glenn was joined by JOHN MASON who then took over when Glenn left in October 1985 (see page 268). The book then has John Mason as the DJ with the only mention of any other DJ is of an Adrian on the closing night. This was in fact ADRIAN COLEMAN who had often covered for both Glenn and John throughout the 1982 to 1985 period as well as replacing John on many occasions in the period up to the closure of the club for refurbishment in January 1986 (page 272). When the club reopened in November 1986 Adrian Coleman was the sole DJ through to the final closure of the club on Saturday 27th August 1988 (page 276).
Page 233 - Wednesday 4th November 1982 - JAGUAR - The support band was KINGS OF OBLIVION. In 1996 Kings member Fred Hale recorded with Jaguar member Jeff Cox for the album "Diamond Dust" by the LOST BOYZ.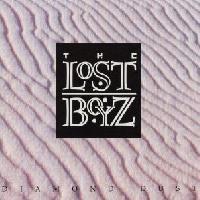 Page 234 - Tuesday 30th November 1982 - BUDGIE - The support band on this night was THE PRAMS who were on tour at the time promoting their album "What's the time Mr. Wolf". Band members Robert Boston and Alwyn Lovell were previously part of the group GENGHIS KHAN.
Page 236 - Saturday 20th January 1983 - LARRY MILLER was the main band on this night when the club was visited by Ronnie James Dio and Jimmy Bain. The book says that the two guests had come over from the Colston Hall after appearing with RAINBOW. Granary fan James Guy Gibbs was at the club on this night and can correct the information as the show at the Colston Hall was the DIO HOLY DIVER TOUR. James also adds "I met them both in the Crown when Glenn Daniels invited me along to meet them. Dio signed some things for me and bought me a beer. It was a great experience and a great night (except for Jimmy Bain being an arse!)".
Page 236 - The information is given as Saturday 15th February 1983 - HANDSOME BEASTS - The day and date do not match. It should read Tuesday 15th February 1983 not Saturday. The live music on Saturday 12th February 1983 was provided by - ORION.
Page 245 - Saturday 17th December 1983 - TREDEGAR
Page 248 - Saturday 5th May 1984 - BACK STREET SLIDE are given as the live act on this night however Ian Carter tells us that it was in fact - NEW MODEL ARMY - Their Vengeance tour reached Bristol, probably the best clog-wearing rock three piece to emerge from Bradford in the mid-'80s. They were supporting their single "Vengeance" which, despite the catchy chorus of "I believe in vengeance, I believe in killing the bastard", failed to generate the hoped-for air play. However, they did in fact go on to achieve considerable success and are still going, with an impressive back catalogue to call on. And I bet they still play "Vengeance".
Page 251 - Sunday 5th August 1984 - SPIDER - This gig information sheet was supplied by Gran Fan Jezza Locke who obtained it from Steve Hall who was part of the road crew for rock band SPIDER. It was SPIDER's fourteenth appearance at the club and, unfortunately, their last.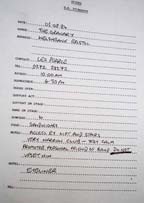 Page 270 -Sunday 15th December 1985 - SHOP ASSISTANTS - Ian Carter writes that there was no mention of killing the bastard when the Shop Assistants played with their ground-breaking indie sound. The Shoppies (as their fans probably called them) were at the forefront of the C86 sound which launched the careers of fellow Scots the Jesus & Mary Chain and many others who have since slipped back to obscurity. Of course, those in the know are well aware that without the mid-eighties indie scene we'd never have bands like Nirvana. Or Busted…
ADDITION - Thursday 12th February 1986 - ONSLAUGHT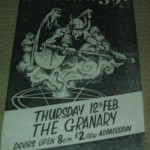 Page 272 - Sunday 1st March 1987 - P
ENDRAGON
the support was
ROG PATTERSON
Page 273 - Sunday 22nd March 1987 - VOW WOW -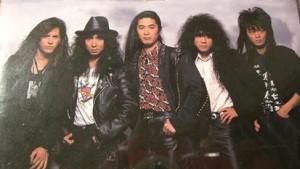 Unknown to many in the west, a Japanese heavy rock band called "Bow Wow" were busy making albums at the rate of 1 or 2 a year between 1976 and 1984. They were the support act for Kiss in 1977 (Japanese Tour) and also for Aerosmith a year later. In 1982 they played at the Reading Festival on the same bill as Iron Maiden. Early 1987 the band had already relocated to the UK in a bid to crack the western hemisphere and had changed its name to Vow Wow. They recruited ex Whitesnake bassist Neil Murray and the commercially successful album "V" was recorded in Ibiza. At this point Vow Wow were regularly featuring on the Friday Night Rock Show hosted by Tommy Vance and were responsible for most of the shows Jingles.
Page 275 - Monday 21st December 1987 - JADIS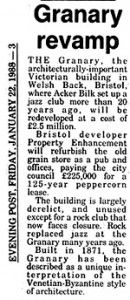 This Evening Post piece from January 1988 had alerted rock fans to the fact that closure was inevitable. It was late in August that the inevitable took place.
Page 275 - Sunday 10th April 1988 -RED JASPER -  OPHIUCUS

Page 275 - Thursday 21st April 1988 -

THE HERB GARDEN - MYRIAD LIFEFORM - THE BIG FAT LIARS
My thanks to A.J.Samuels who has provided first hand information and photographs of the last nights of the Granary as a rock club
Page 276  - The final live music gig is given in the book as Thursday 11th August 1988 but the the final live gig was actually on Thursday 25th August 1988 and the honour of playing went to HERB GARDEN. An Ashton Court Festival programme described them as 'the fastest, loudest, weirdest and finest purveyors of thrash in Bristol. This group of charming, upright young men will have more people turning green in one go than the enviromentalists could ever dream. You,ll need heavy constraint to keep you from the front banging your head to such grooves gone haywire as 'Ice Cream Man' and 'Bulldozer Jones'. Don't let their thrash tag put you off though as they are a great live band with good songs and a charming weird appeal. Let them take you on a cartoon trip to their far out world but don't ever expect to get out again'. AJ tells us that Herb Garden were formed in 1987 and gigged around the Bristol scene until the early 90's. He says that their finest hour was possibly at the Ashton Court Featival in 1990 when lead singer Carl 'gave birth' on stage to a blood covered plastic foetus. Outraged citizens wrote letters of complaint to the Evening Post. With vocalist Carl were Dave on bass, Rat on guitar, Phil Marsden on lead guitar and Ben on drums. In 1989 they released a self titled 5 track !2″ EP on Vermin Vinyls.  - - HERB GARDEN on stage at the Granary's last live music gig supported by WHITE HOT HELMETS and NIGHT TERROR SYNDROME. The Helmets were described as getting straight to the point both musically and politically. Their raw, hard-hitting guitar sound contained more than a hint of the punk era, and they took a strong left-wing stance in their well crafted lyrics. Not a band who preached politics but you were left in no doubt where they stood. Disrespectful protest songs sang with a snarl and a smile. Quick thinking AJ also brought his camera into use to capture some atmospheric visuals of the club 24 hours before it closed forever.  - -  - -  - -  - -  - -  - -
Page 276
Saturday 27th August 1988 - LAST NIGHT OF THE GRANARY CLUB ROCK ON RECORD WITH ADRIAN COLEMAN - In the book the DJ is just named as Adrian. This was Adrian Coleman who had been the sole DJ at the Granary since the reopening in November 1986 and on many occasions had replaced both Glenn Daniel and John Mason in the disco booth in the years previous. A.J.Samuels was also at the club on the last night and can claim to be the last person to be served a pint at the Granary. He writes "My diary confirms that the last night was Saturday 27 August as stated inthe book. As I recall, by that time it seemed to be the policy of the club to have only rock disco nights on Fridays and Saturdays, any gigs being held on Sunday or during the week. I don't have any record of whether they were also open on the Friday night that weekend but I would imagine so. I'm not sure if we definitely knew before that night that it was going to be the last one, but I think it's fairly likely that word had got around. Obviously it was well known that it was bound to happen before very much longer, as it had been announced some time before that the place was being sold. Certainly the DJ (Adrian Coleman) in the club confirmed it during the evening. The whole night is a bit hazy, for obvious reasons. The main things I remember are that firstly the bar pretty much carried on serving until the beer ran out, by which time it was well past the normal closing time. Also I can clearly remember walking into the gents at some point late in the evening to find that all the toilets had been removed from the cubicles, leaving just holes in the floor. Presumably someone had taken them as souvenirs…. I've no idea about the disappearance of the 'House of Rock' banner though, I don't remember noticing if that had gone. Eventually it would appear that somebody decided to clear out everybody who was left, and so I end up standing on the pavement outside the front entrance with my friend Adrian Clay, still with pints in hand. By this time it was probably about 3.00am. As we're stood there finishing our drinks, Les appears out of the entrance and gets chatting with us. He takes us down to Charlotte's bar in the basement where he produces a crate of beer bottles from behind the bar and invites us to help ourselves. We stay there drinking and talking to Les for another hour or two before staggering off home. Unfortunately I have no recollection of what was said! So I think we were almost certainly the last to have a drink in the Granary and the last to leave that night. A few weeks later, as I recall, there was an attempt by a group of ravers to break into the building and hold an illegal party. I think we heard about it in the pub and went down to have a look but something happened to stop it before we got there, probably the police turned up or something. I'm not sure of the exact date of this but I think it may have been mentioned in Venue at the time."  THE END - OR IS IT?