History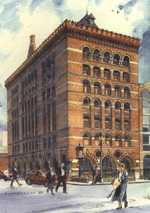 The Granary is in an area of fine architecture : one-time merchants houses, a 17th century alms house with saw tooth gables, a Tudor public house where, it is said, young Jim Hawkins met a certain one-eyed, one legged sailor with a parrot on his right shoulder and Robert Louis Stevenson met a returning marooned sailor called Andrew Selkirk and then sat down to write 'Robinson Crusoe'.
Both stories are regrettably untrue but they still get repeated time after time.
And then there is the Granary. It is a remarkable building , the work of architects Ponton and Gough. It is recognised as their masterpiece and as the most striking monument of the high Victorian age in Bristol. Situated on Welsh Back and built in 1869 it is a hundred feet high with ten storeys. It was built for K.K.Wait, benefactor of the city's cathedral and for man years has been a listed building. It has been called the apotheosis of the Bristol Byzantine style, as potent a symbol of the city as St. Mary Redcliffe.
Nowadays it houses trendy appartments but in the late Sixties, after it had been empty for many years it became a jazz club under the guidance of Acker Bilk (hit recorder of 'Stranger on the Shore' and one of the greats of British jazz) and his brother Dave Bilk. It opened as a seven days a week jazz club on Tuesday 8th October 1968 with music supplied by the Avon Cities Jazz Band who regularly played there for the next 10 years (they also provided the music for the last night of jazz in 1978 as well). Acker Bilk appeared on Thursday 10th October 1968.
Fridays became the Avon Cities regular night whilst the Bluenotes Jazz Band played every Wednesday, The Bluenotes clarinet player was well-known local radio broadcaster Roger Bennett, Over the first few years artists like Long John Baldry, Georgie Fame and Alan Price appeared, as well as international jazz names like Maynard Ferguson, Red Norvo, Joe Harriot and Muddy Waters.
British traditional jazz bands like Chris Barber, Kenny Ball, Ken Kolyer, Humphrey Lyttleton, Terry Lightfoot, Sandy Brown and Alex Welsh were also featured. Although jazz in the UK was very popular at the time, the early part of the week was a bit quiet and the possibility of hiring it on a Monday attracted four local musicians…….Mike Tobin, Ed Newsom, Terry Brace and Al Read.
East of Eden had been hiring the Dugout Club in Park Row during 1968 for a Monday night of their far out and cosmic prog rock. When the band split in two Al    and Terry along with roadie Ed and colleague Mike carried on the "Plastic Dog" nights at the Dug Out calling on other local Prog rock and blues bands.
The nights became very popular and in order to accomodate more fans a move to the larger Granary Club seemed like a good idea. It was.
Thursdays nights were added to the Mondays and over the following ten years the rock music completely took over from jazz. From the beginning Plastic Dog had a canny knack of booking the big names of rock early in their careers which earned the Granary a big gig status. The Granary became the place to play and the place to be.