From the depths of the Granary Archives some long lost photographs have been unearthed showing the Club's final DJ Adrian Coleman at work in the disco booth along with the much loved Granary DJ Glenn Daniel. Glenn tragically died from a heart attack several year ago. Glenn took over the disco when Al Read left in 1982 and it was Glenn, Adrian and DJ John Mason who looked after the rock on record through to the last night in 1988.
Glenn Daniel on the left, Adrian Coleman right. The posters advertised BANG WALLACE who played the club on Thursday 27th September 1984.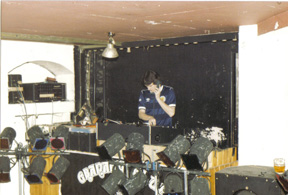 Adrian on another night with the "Granary Home of Rock" banner on display behind the band's lighting rig.