THE CHRISTMAS GRANARY GATHERING IS JUST 12 DAYS AWAY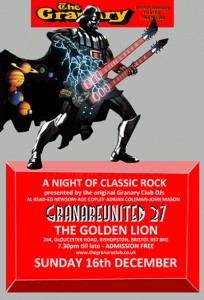 Including all those classic tracks you remember so well from the legendary Granary rock discos. FREE admission and a FREE raffle to win a framed authentic Granary poster from the 1970's. We're pulling out all the stops, we're turning it up to eleven, we're going all the way, we're on a highway to hell! We want to do it with YOU! Classic rock from 7.30pm till late, don't miss a minute!
MORE PICTURES FOR THE GRANARY ARCHIVE
A.J.Samuels has been reworking some of the great pictures he took at the club during the glory days including this superb shot of Marillion on stage on Tuesday 23rd November 1982. Thanks a bunch A.J.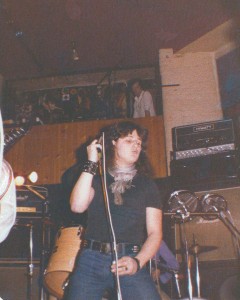 Paul Merrell posted this on our Granary Facebook page. He's doing his thing as lead vocalist of the band Stormtrooper who played at the club at least 5 times between 1976 and 1979. They were favourites as proven by the fact that DJ Al Read had stayed in the DJ box (top right) to watch them instead of his usual routine of rushing off to the bar. Nice one Paul!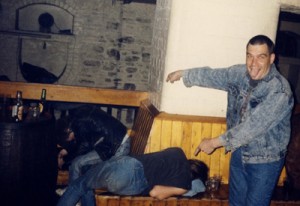 Thanks to Keith Hill for this post of two nameless Granary  drinking buddies, one who thinks it's hugely amusing that his mate has passed out on the seating around one of the pillars.
FOPP SUGGESTS THE GRANARY BOOK FOR CHRISTMAS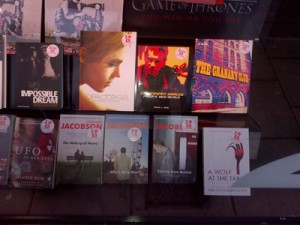 Granary book (to right) on display in the window of music shop FOPP in Bristol. There aren't many copies of the book left now so now is the time to pick one up. FOPP have them at a very reasonable price as well. If you do buy one for a Christmas present, bring it along to the Granareunited gig and get it signed by the author and the Granary DJs. There will also be copies of the book available at Granareunited on 16th December.
That's it for this newsletter, we look forward to your company on Sunday 16th December at the Lion. Keep the Granary alive and rockin', Al & Ed.