This year there are three Granareunited events planned. Each will feature the original
Granary DJs bringing back vivid memories of the brilliant nights spent at the Granary.
Make a note in your 2014 diary of the dates and be sure to be at the Golden Lion for each one.
The April and August dates are on a Sunday preceding a Bank Holiday Monday.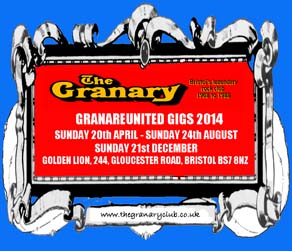 FASCINATING DOCUMENT FOR THE GRANARY ARCHIVE
This gig information sheet was supplied by Gran Fan Jezza Locke who obtained it from
Steve Hall who was part of the road crew for rock band SPIDER.
It's for a gig at the club on Sunday 5th August 1984 which turned out to be SPIDER's
fourteenth appearance at the club and, unfortunately, their last.
Thanks for this Jezza and good luck with the "Spider Boogie Fanwagon".
If you do have any Granary memorabilia or photographs, do let us know.