THE COUNTDOWN BEGINS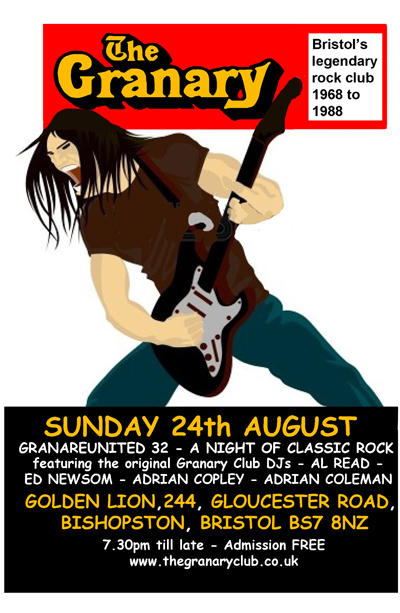 Next Sunday at the Lion we will be celebrating our thirty second Granary Club reunion and we want your company. We must warn you that there might be bad language, adult themes and flashing lights but who cares… it's rock n roll! It's free admission so tell your friends and neighbours to come and be be prepared to indulge in the best of classic rock. The following day is a Bank Holiday (or as we know it …recovery time) so as most of us will have a day off we can take advantage of the pub price beer! Granary memorabilia adorns the walls and there are copies of the Granary book at sale price that you can get signed by the Granary DJs. Make an early arrival at the Lion in order to catch every classic track but, whatever you do MAKE IT! See you there mateys.
_________________________________________________________________________________
MESSAGE FROM GRANARY BOOKING AGENT
You are all aware of the impressive list of name rock bands that played at the club throughout the Seventies. We relied heavily on our relationship with the booking agents at the major London music agencies. They knew how reliable the Granary was as a venue and how appreciative the audience were. We received a message after our last mailout from booking agent Mike Reed who said "I was a very 'umble booker in a London Agency in The very early 70's we had a list of places EVERY band should play…Apart form the obvious .,Marquee Greyhound etc, the Granary was writ in large letters…as Stan Webb (Stan Webb and Chicken Shack - at least 4 Granary dates betweeb 1974 and 1981) put it to a young ambitious Guitarist,, 'make heads bounce there son and you've cracked it!"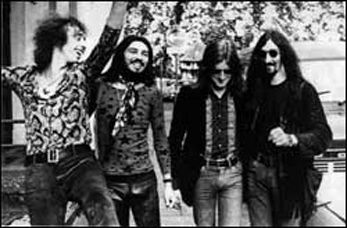 Stan Webb (left) and Chicken Shack
Lubin (Lem Lubin saxaphone with jazz rock band Satisfaction - Granary dates in 1971 to 1973) is still a great mate, retired and living like me in darkest Wiltshire….you'd be surprised who comes creeping out of the woodwork around here…Oddly, although most things about the Biz(before it became an industry) were odd, I worked for both Chrysalis and Revolution as well as Starlight. Although the word 'worked' does suggest we got paid…….you very often couldn't move for Egos…….I remember Brinsley  Schwartz ,Quintessence ,Gentle Giant ( who I went on the road with …I think) Terry Reid,now THERE was a set of pipes..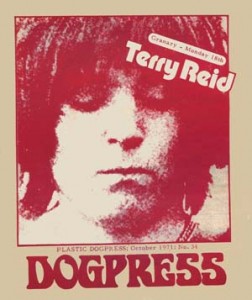 Front page of Granary magazine Oct 1971
Big thanks to Mike Reed, we look forward to another collection of his Granary memories soon.