A RECENTLY PUBLISHED BRISTOL MUSIC BOOK
Many of the bands featured in this new book played at the Granary in the late Seventies and Eighties. The Cortinas and Looney Tunes on the same night in November 1979. The Spics in September 1979 and, of course, Granary appearances by many more new wave Bristol bands like Vice Squad, Vitus Dance, The Rimshots, Court Martial and the Hybrids. Add this book to your Granary Club book (and the fine Bristol Folk by Mark Jones) and you've got it covered! Bristol Boys make More Noise is published by Tangent Books £14. PS - And I've still got my Cortinas badge!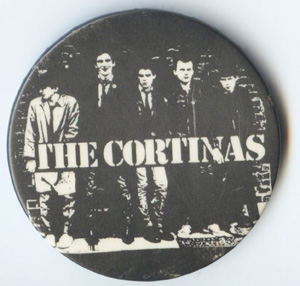 THE FILM - FINAL PROOF (FINALLY)
There was a series of progressive rock nights featuring Bristol based East of Eden at the Dugout in the late Sixties. When the Dugout became to small to handle the ever increasing crowd and the blues and rock bands that took over when East of Eden left Bristol, a move to the Granary organised by Mike Tobin began a new era. The other three of the four original Granary team members, Al Read, Terry Brace and Ed Newsom, were with East of Eden and had fleeting moments of being "almost famous". One of these was appearing in a film directed by Tony Richardson (Look Back in Anger, Tom Jones, The Loneliness of the Long Distance Runner, Charge of the Light Brigade and many more). The film was Laughter in the Dark which originally had Richard Burton in the lead male role. He was, however, sacked and replaced with Nicol Williamson.
The film was released to cinemas in London but there were bad reviews and and a furious Tony Richardson withdrew the film and destroyed the copies. Since that event in late 1968 no copies of the film have been found. Posters, handouts and press information survived but tere's no mention of East of Eden on any of these. No way of proving we were even in it! Until a few weeks ago. A prog rock colleague in Poland came across a still from the film. Al is on vocals with Terry Brace on bass. The lady with her back to the camera is leading lady Anna Karina and Al can confirm that it is definitely him in the flouncy white shirt. If you know where there is a copy of the film is please let us know!