ONE HELL OF A NIGHT AT THE GRANARY
A real feast of photographs taken at the Granary have arrived recently including some from Granary fan Karen Rich which finally confirmed the date of the surprise appearance of Jimmy Bain on stage as Thursday 13th September 1984. The Larry Miller Band were the featured artist at the Granary that night and were joined on stage by Ronnie James Dio and bass guitarist Jimmy Bain who were in town to play the Colston Hall the following night.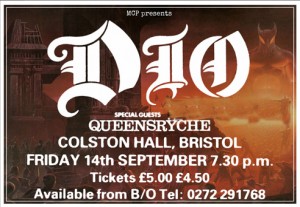 Karen told us "We were very sorry to hear of the recent death of Jimmy Bain and thought you might like to see this photo taken on the 13th September 1984, the night before Dio played at the Colston Hall. He is pictured here with my husband John. We were regulars at the Granary and loved the place dearly!"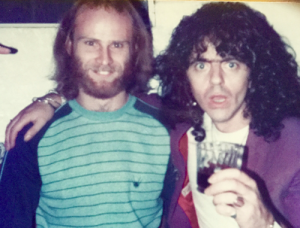 Jimmy was joined on stage by local guitar wizard Chris Goulstone member of Bronz who told us " "That's me! I remember Larry Miller wouldn't let his drummer play- so Jimmy and I jammed just the two of us!!' Rock me Baby' was the tune - I remember Dio was there and also Tania, the vocalist with Headmaster. She took off her high heels off cause Ronnie was so short!:)
Larry Miller said that the jam session went on longer than the audience actually wanted and began to chant for Larry and the cried "We love you Larry" when the Miller band returned to the stage. Further information has been added by Mark Jones - Just to point out that Ronnie James Dio didn't actually get up on stage that night.The possible reason being that he'd correctly deduced that, even with his discretely-stacked boots, he'd still be shorter than the audience whilst up there. Well, that was my pet theory at the time, though I was probably being unkind!.And, yes, the jam itself was rather interminable. (I wonder if anyone remembers Larry Miller's rather good, privately-pressed LP from around that time? 'Right Chaps!' it was called, I think.)Granary regular, John Rich, by the way, as seen in the newsletter with Jimmy Bain, also got his photo in Kerrang around that time after winning a competition in the magazine. I think his prize was a guitar from the NWOBHM band, Spider, though I could be wrong after all these years.
Jimmy Bain was back at the Granary on Thursday 9th November 1978 with Wild Horses.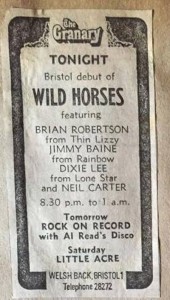 ____________________________________________________________________________________________